About
Warrior Canine Connection is a non-profit in Boyds, MD that trains mobility service dogs for wounded veterans and names their dogs after fallen or inspiring service members. Each puppy trained will bring awareness to the inspiring service of their namesake while helping to heal the invisible wounds of recovering warriors.
The dogs often become a social lubricant for the recovering service members who can talk about the dogs, the dogs' namesake, but not necessarily about themselves. Anyone can nominate a namesake.
Learn More
Featured Story
During an interview related to the Warrior Canine Connection (WCC) and his therapy companion Darby, U. S. Air Force Master Sergeant Adam M. Boccher stated: "The scars are deep, traumatic, and debilitating whether it is the result of a wound suffered in the line of duty during conflict, or if it is the result of sexual abuse, traumatic brain injury from a car accident or PTSD." Boccher deployed three times in 16 years (twice to Afghanistan and once to Iraq). Working primarily in the dark of night, with night goggles and on counter insurgency missions, each deployment exposed him to high-risk situations, gunfire, rockets, and explosions.
In his first deployment to Forward Operating Base (FOB) Salerno, Afghanistan, Khost province, he and his teammates visited local villages in the dark of night to find and engage Afghanis that were willing to cooperate with the U. S. military. The operations focused on find, fix, track and neutralize strategies. One night in a "snatch and grab" mission, he was standing atop a Hum V, when a rocket landed nearby. He fell head first to the ground. The gunfire continued for 2-3 hours.
In 2018, he was admitted to the Traumatic Brain Injury (TBI) unit at Walter Reed National Military Medical Center, Bethesda, MD for medical evaluations and therapeutic interventions. During his 5-week stay, he experienced extraordinary care from all providers, but was particularly grateful for the nurses on that unit. He believes that they had a profound influence on the progress he made while there. "The nurses allowed me to speak without judgment, they provided emotional support and encouraged me to trust the process," he said. Adam was diagnosed with TBI, PTSD and RIM Sleep Behavior Disorder.
Adam was contacted by the WCC and invited to "interview" potential service dog candidates. There were three dogs available that day and it was the third dog that was named for Captain Ann Darby Reynolds, NC, USN, ret. that caught his attention. Adam stated, "Darby was a perfect combination of business and affection. We connected immediately. She was tuned into my anxiety. Before Darby entered my life, I was extremely closed off, unable to open up to other people. I suffered from many episodes of anxiety that left me frozen in the moment. Darby knows how to disrupt the 40-yard stare, she nuzzles my clenched hands to remind me to relax, and she snuggles with me to reassure me that all is well."
CAPT Reynolds was commissioned an Ensign in the Navy Nurse Corps in 1962 and in 1964 was one of four Navy Nurses injured when a 200 lb. bomb detonated at their quarters in Vietnam. They were the first women to be injured and the only Navy Nurses to receive the Purple Heart during the Vietnam War.
Adam knew from the very start that his pairing with WCC's Darby was meant to be. "I can definitely describe my matching process with Darby and why it was so special. It was all very natural and I remember going home that evening and telling my wife, 'I know Darby's it. She's it. She's gotta be the one!' When the WCC staff called and told me that Darby and I were matched it was just amazing. She's special. She's so special!"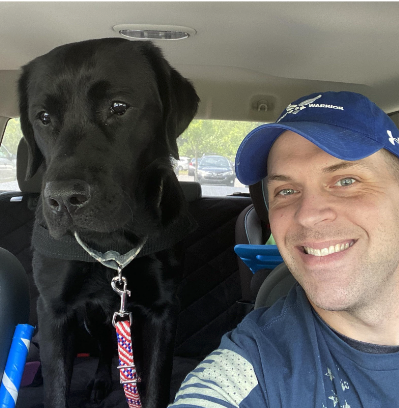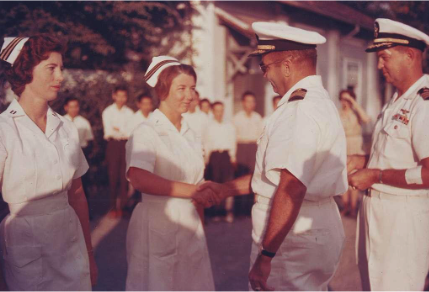 Nomination
The NNCA has informally partnered with the WCC to nominate Navy nurses as namesakes for these specially trained service dogs.
To bring attention to the contributions of Navy nurses, the NNCA Board of Directors approved a decentralized process for NNCA's namesake submission efforts.
The nomination process is easy. Submit names directly to WCC.
If you choose to submit namesake nominations, please consider the following:
You must have the member or family permission to submit a name for WCC's namesake program.
The namesake nomination should be someone who will resonate with the future veteran (most likely a younger man who was wounded in combat) who will receive the service dog. The namesake nomination does not need to be someone who served in combat or was wounded, rather the namesake should have a compelling or inspiring story that makes a connection with wounded veterans. For example, many Navy nurses have provided care to wounded veterans, therefore; a Navy nurse namesake would resonate with the veteran who will receive the dog.
The nomination must provide summary of namesake's Military Service including significant contributions and inspirations, as well as any notable accomplishments outside of service. A sample format is provided on the nomination form (approx. 1000-2200 characters). Submit a photo of nominee in uniform.
Nominations may be submitted directly to WCC by a NNCA Chapter, the History Committee, or the Memorabilia Committee; however, the NNCA requests that a copy of the nomination be submitted to: WCC@nnca.org in order to track Navy nurse nominations and to avoid duplication of effort.
Once you have gathered all the information about your nomination, open the link, enter the information into the blocks and press submit.
Nominate